About Us
The Hackney School of Food is a vibrant cookery school established by LEAP Federation of Schools (Gayhurst Community School, Mandeville Primary and Kingsmead Primary) in partnership with the charity Chefs in Schools.
We offer schools and our community a broad range of cookery courses to teach children and their families to cook nourishing food from scratch.
Set amidst beautiful productive gardens where we grow much of our produce from scratch. we offer an immersive experience in growing and cooking real food made from the freshest ingredients.
We are at the forefront of children's food education and research, working with Kings College Department of Nutrition to teach children about the importance of fresh food throughout their lives.
Mission Statement
The Hackney School of Food is designed to be a vibrant cooking centre to inspire, support and develop a love of cooking in people of all ages and levels of experience from young children to experienced chefs.
Central to our mission is the belief that sharing great food unites families, communities, and society as a whole.  Chefs in Schools and the LEAP federation have built the Hackney School of Food to facilitate food education by transforming a derelict and unused site into a place that will deliver high quality training, resources and fresh produce that will travel quickly from soil to spoon.
Our team of chefs, gardeners and educators work together to develop exciting new courses that will fulfil every need.  As a community organisation, we invite collaboration from everyone who has an interest in our project and rely greatly on the work of our volunteers and the generosity of our patrons and charities that have helped us get this far.
We aim to inspire healthy lifestyles, great nutrition, enjoyment and inclusivity that brings us all together to share and develop as one wider community.
Who We Are
The Hackney School of Food is a joint venture from the LEAP Federation of Schools and  Chefs in Schools (Registered Charity Number 1178964). Co-founded by leaders from the fields of food, education and campaigning, we are the forefront of improving the food, food education and food culture in schools.
Our Staff:
Tom WALKER
Head Food Educator
LIDKA D'AGOSTINO
Head Gardener
Miranda Cochrane
Project Manager
Coral Cuthbertson
Food Educator
Louise Nichols
Director and Executive Head of LEAP Federation
NAOMI DUNCAN
Chief Executive, Chefs in Schools
MARC THOMPSON
Headteacher, Mandeville Primary School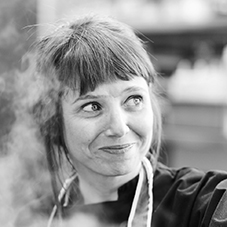 Nicole Pisani
Executive Chef, Chefs in Schools
ANNA SCHABEL
Associate Governor for LEAP Federation
IAN MULLANEY
Governor for LEAP Federation
LOLA AKINDOYIN
Head of Programme - Moving Together, Hackney Council